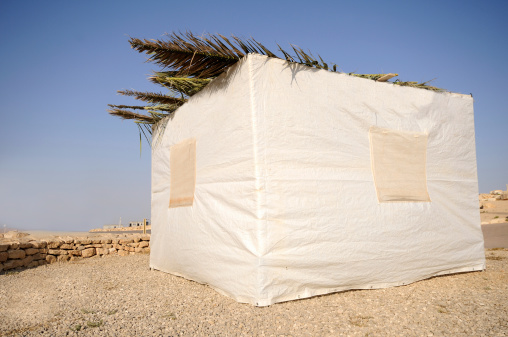 We all know that famous conversation starter:  Who would you invite to dinner dead or alive? And of course we all know how it is answered. The religious invite Jesus, the Dalai Lama and the Pope. The star struck invite George Clooney and the Jolie-Pitts. The philosophical invite Socrates and Plato; and the sentimental invite their deceased grandparents.
We all want ten minutes with one of them to impart their great wisdom in the hopes that they will answer the unanswerable questions. We want them to make sense of all the complexities of our lives.
But what if the person with all the answers is right in front of you and you just don't know it yet?
This week, Jews around the world including my family will build a sukkah, a fragile hut in their backyards. Then for 8 days we will do everything in the sukkah besides poop. And of course if the ritual is not bizarre enough, we will shake a lulav (palmy branch type thingy) and an etrog (a cousin of a lemon) in six directions while reciting a blessing to acknowledge the Divine Presence, and then we will invite seven strangers to join us in the ritual for the week.
So who am I inviting to dinner this year?
Colonel Smith*, who I met through Operation Mend, the organization which helps wounded veterans and their families to get much needed medical treatment at UCLA. He served multiple tours in Iraq and came home to his wife and three daughters after two years so badly injured that he will never be able to return to work again.
Frank and Jolie*, a Parisian couple and their daughter, whom I met randomly in a French bakery. They left their thriving careers, their family and everything they have ever known after a new sign was recently posted in their local eatery – Dogs Allowed. No Jews.
Benjamin*, the survivor of the Holocaust, who I see sitting in synagogue each week praying quietly, but whom no one ever addresses because of his thick accent and seemingly unapproachable demeanor.
I realized that if I want to ask the most difficult questions about hatred, suffering and God's existence, then I have to ask people who have been in the trenches and who can speak to me now. Someone who lived 500 years ago just cannot do that.
This week, whether you build a sukkah or not, invite someone in your midst who has been on the front-lines literally and metaphorically to lunch, coffee, or even to your home for dinner. If you do, you may find answers today and the thought of inviting Obama, Clooney or even Jesus to dinner may just seem downright redundant.
*Names have been changed for anonymity.