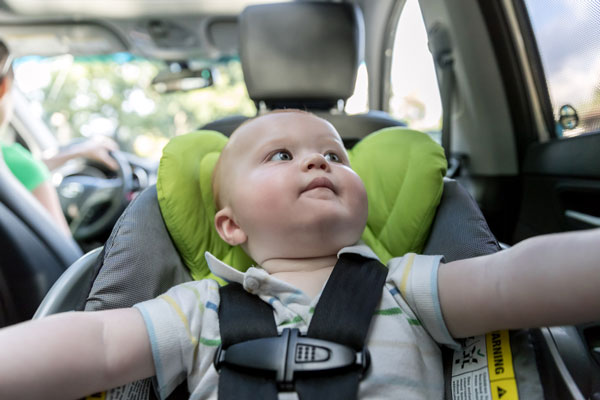 You put your kid in the car and buckle them into their five-point harness. They're six years old and start complaining that you're treating them like a little kid. They're old enough to ride in the car with a regular seat belt like a big kid, they protest. You consider letting them because they do look a little cramped in their child restraint system. Is it okay to let your toddler or small child ride in a vehicle using just a seat belt? No. Even though it might make your child happy, a seat belt won't guarantee their safety. The risk of serious injury or death increases significantly when a child is not secured in a proper car seat or restraint system. Allowing your child to ride in the car without any additional safety protections can put their lives in danger.
Seat Belts Were Designed to Restrain Adults
Seat belts weren't always a standard safety feature in American vehicles. In fact, it wasn't until 1968 that seat belts were required to be included in all vehicles sold in the United States. Today, most states, including Texas, require drivers and passengers to buckle up before hitting the road. Why? Studies show that wearing a seat belt in the front of a vehicle reduces the risk of death by 45 percent and the risk of critical injury by 50 percent. In 2017, it's estimated that 14,955 lives were saved because passengers were wearing seat belts at the time of an car accident. Seat belts have a simple job: preventing a passenger from being ejected from a car in an accident. Upon impact, the seat belt tightens and secures the passenger in place. However, this only works when (a) the seat belt is being used as intended and (b) the passenger meets height and weight requirements to use the belt properly. Those are two reasons why seat belts might not protect your child in an accident. First, young kids under the age of 10 or 12 are unlikely to meet the height and weight requirements to wear a seat belt safely. As a direct result of this, kids wearing a seat belt are more likely to wear them improperly. Together, these factors significantly reduce the effectiveness of the restraint. In an accident, a child wearing only a seat belt is more likely to be ejected from the vehicle. A likely result: severe injury or death.
Comply With Your State's Car Seat Laws
Every state in the country has laws regarding how children can be transported in motor vehicles. In Texas, there are specific rules governing when a child must be in a child safety seat and when they can transition to a booster that allows the use of a traditional seat belt. Car Seat: Children in Texas must remain in a rear-facing car seat until they are at least two years old. Same rule applies in Florida. Feel free to contact Tampa car accident lawyer if you have any additional questions about that. Only once a child has satisfied all of the age, weight, and height requirements may they transition to a front-facing position. Booster Seat: Children must remain in a front or rear-facing car seat until they exceed the height and weight limits for their five-point harness. This usually happens when they reach 40 pounds or turn four years old. Once a child outgrows a car seat, they must transition to a booster seat. This booster utilizes the car's seat belt, but lifts the child so that the belt will fit properly. Kids in Texas have to use a booster seat until they are big enough to use the seat belt safely without the booster.
How Do I Know If My Child is Ready to Use a Seat Belt?
Your child will be in a rush to grow up and sit in the car like a big kid. However, don't let them ride without their booster until you're sure they're big enough to use the seat belt without extra support. Your child might be ready to ride without a booster if:
They can sit up straight with their back flush against the rear of the vehicle seat
They can sit up straight and have their legs bend and hang naturally over the edge of the seat
The shoulder strap lays over their collarbone, rather than the face or neck, and
The lap belt is over their lap, not their belly.
Can your child sit naturally and comfortably for an extended period of time and satisfy all of these requirements? Many children will try to show you that they can stretch and sit up straight. However, on a long ride, they'll probably end up slouching and transitioning into an unsafe position. Only let them ride without a booster if they can meet these requirements without trying.
Can My Kids Ride in the Front Seat?
The back seat is the safest place for children. Airbags can pose a serious threat to developing kids. Whether or not your child can legally ride in the front seat depends on your state's laws. In Texas, kids can jump into the front passenger seat once they turn 13. Before that, there are only limited situations in which it would be permissible for a child to ride in the front. These laws are in place to protect your kids if they're in the vehicle when you get into a car accident. It's important to follow the best practices to keep them safe. Ignoring these safety rules could put your tiny loved ones in harm's way.
FAQs on Child Car Safety
1. When can children use the seat belt? 
Children can wear a regular seat belt when they can easily rest their back against the car seat and bend their knees over the edge of the car seat. This usually happens when a child reaches around 8 and 12 years old or 4 feet 9 inches (150 centimeters) tall.
2. Which child safety seat is recommended for a child?
Since it must be used every single ride, the best safety seat for children is the one that fits the child, the car, and the family's needs in terms of convenience and comfort.
3. What is the LATCH?
Lower Anchors and Tethers for Children (LATCH) is a child restraint installation system available on a safety seat, mostly made after September 1, 2002. It allows the user to securely attach the safety seat in the car without utilizing the seat belt and to get a better fit.
Try the LATCH installation first and use the car seat belt in that seating position if the LATCH is loosely fit.
4. Can a child victim obtain compensation from a car accident?
Car accidents involving children happen when the driver has children under eighteen years old. The child victim may sustain injuries along with other children. When this happens, the medical bills may skyrocket due to serious injuries and additional therapy required after hospitalization. The insurance company may cover the cost laid out in their policy, and the responsible driver could shoulder any additional expenses. However, car accidents involving children could be a lot complicated. To check your legal options, talk to an attorney if a minor victim is involved in a car accident.
5. Can the parent of the injured child sue the manufacturer for a defective car seat?
If the child was injured because of a defective car seat, the parents could file a product liability case against the manufacturer.