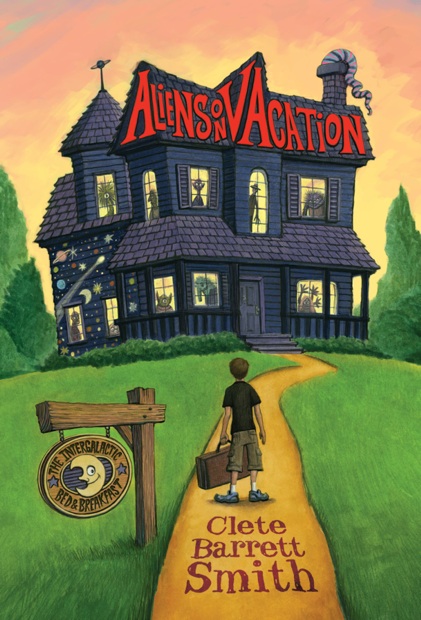 Space. The final frontier. With the recent discovery of water on Mars, it seems that anything is possible. Whether your child is interested in exploring nearby planets, finding life outside our universe, or discovering alien life on Earth, these books will whet the interest of future space explorers.
Aliens on Vacation by Clete Barrett Smith Disney-Hyperion, 2011
Grades 3-6
David (aka Scrub) is sent to spend the summer with his grandmother at her crazy bed and breakfast out in the middle of nowhere in Washington State. Little does he know that the outer space and alien themed B&B is much more than it appears! Scrub is a likable character, and I found myself rooting for him all the way. The grandmother is a hoot, and much smarter than she lets on. I recommend the other two books in the series as well, Aliens on a Rampage and Aliens in Disguise.
Ambassador by William Alexander Margaret K. McElderry Books, 2014
Grades 4-8
Gabe Fuentes has been chosen to be Earth's ambassador to an intergalactic council. It is made up of children, because kids find it easier to accept beings and situations that are different from the norm. There is a sense of urgency however, since unfamiliar spacecraft have been spotted in the asteroid belt between Mars & Jupiter, and diplomacy is necessary to figure out who is there and why. There is urgency at home, too, since both of Gabe's parents are in the United States illegally. This is a phenomenal book with spectacular parallels between both kinds of aliens, in addition to being an action-packed adventure. Highly recommended to grades 4-8.
Jedi Academy by Jeffrey Brown Scholastic, 2013
Grades 3-7
This book has tales of middle school and all of the difficulties and awkwardness that comes with it, told through drawings and pictures. Sound familiar? But wait! This one is set firmly in the world of Star Wars. To say Roan is disappointed when he does not get accepted to Pilot School is putting it mildly. His hopes and dreams are destroyed, and he is afraid that he will have to live as a farmer on Tatooine forever. Until the day a mysterious letter arrives inviting him to attend the Jedi Academy. Roan faces the same challenges as any middle school student -- making friends, dealing with homework, and figuring out who he really is. But coupled with that, he must learn to use the Force. Perfect for your Star Wars and Wimpy Kid fans alike. Recommended for grades 3-7.
Life on Mars by Jennifer Brown Bloomsbury USA Childrens, 2014
Grades 5-7
Arty's family loves stars and space, so much so that they all have astronomical names. Arty's goal in life is to discover extraterrestrial life. He is hoping for Mars, and spends every night sending signals to the red planet. But his father loses his job at the Observatory and everything changes. His family is moving to the light-polluted city of Las Vegas, far from everything Arty knows and loves. When the grouchy old man who just moved in next door turns out to be a retired astronaut, Arty finally has someone who believes in his dream. How can he possibly move away now? Recommended for grades 5-7.
Mars Evacuees by Sophia McDougall HarperCollins , 2015
Grades 4-7
It's been 15 years of war with the Morrors, and for 12-year-old Alice Dare that is more than her whole life. Her mother is a heroic spacefighter in the Exo-Defense Force and her father is serving onboard a submarine when Alice and a couple hundred other kids are evacuated to Mars to begin their army training. Mars is being terraformed into an inhabitable planet, but it still has a long way to go. There is not much out there other than the kids, some scientists, a few army trainers, and the civilian robots who take care of them. When things start to go horribly wrong (think Lord of the Flies), Alice and her two friends Josephine and Carl, as well as Carl's younger brother Noel and a robot goldfish, set out for help. Along the way they discover what exactly is going on with the aliens. This is action-packed and funny, science fiction at its best! Highly recommended for grades 4-7.
Pi in the Sky by Wendy Mass Little, Brown Books for Young Readers, 2013
Grades 5-8
When a girl on Earth breaks one of the most important rules of the Universe, Earth and its entire solar system is whisked completely out of time. It is up to Joss, the seventh son of the Supreme Overload of the Universe, to try to save the Earth and the solar system that we all know and love. But Joss is just a pie deliverer who considers himself less smart than most of his brothers. Can he and Annika save the Earth in time? A fun adventure with enough twists to keep readers on their toes. Recommended for grades 5-8.
Space Case by Stuart Gibbs Simon & Schuster Books for Young Readers, 2014
Grades 4-7
Dash Gibson lives on Moon Base Alpha, the first settlement on the moon, with his scientist parents and his younger sister. It is not as exciting as one would think, though, until the death of one of the scientists. Dash has reason to believe it wasn't an accident, and although he is ordered to stop, he continues investigating. A fun science fiction mystery set in the year 2040.
Space Rocks by Tom O'Donnell Razorbill, 2014
Grades 3-6
Chorkle is a Xotonian living on the asteroid Gelo, which has recently been invaded by people from Earth mining the asteroid for iridium. Told from his point of view, the reader gets an interesting look at humans and our customs. Along with the mining company are four children, aged 10-13. Chorkle steals one of their computer devices, and teaches himself not only to play their video games, but English as well. When his fellow Xotonians vote to get rid of the invaders, he feels compelled to warn them. Through a series of missteps, however, he ends up causing the stranding of the four children on Gelo. This hilarious story looks at the opposite side of space travel through fresh eyes (five of them, actually). Recommended for grades 3-6.
Zorgoochi Intergalactic Pizza: Delivery of Doom by Dan Yaccarino Feiwel & Friends, 2014
Grades 2-5
Luno Zorgoochi is the youngest in a long line of Zorgoochi pizza makers. When his father is kidnapped by the evil Vlactron, it is up to Luno to lead the other members of the Pizza Pyramid to fight against his pizza domination. But can Luno find the legendary golden anchovy in time to save his father? A fun read for anyone who loves space adventures and pizza. Recommended for grades 2-5.