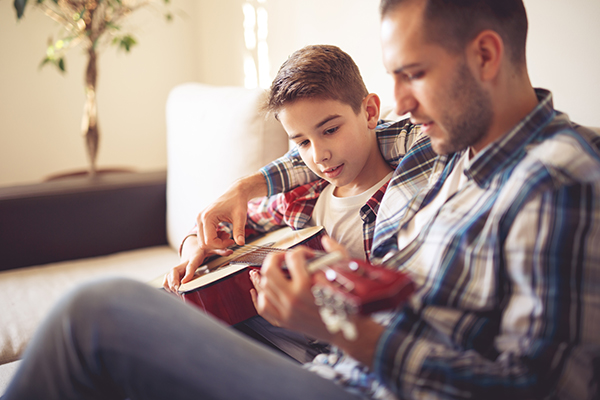 Music was a very big part of my life growing up as a child.  In fact, I met my wife traveling the world in a song and dance performance group.  Whether it was singing, playing the piano, or studying music later on in college, music helped shape me.  Indeed, it has been something that I can take with me wherever I go, and with what ever I do.
As a parent, it has been important to me over the years to not only share my love of music with my children, but also to introduce them to the wonderful opportunities music can provide, and doors that it can open.  I have introduced my son to music with his very first acoustic guitar.
With my busy schedule of work, six children, and a host of other responsibilities, I have very little time to commit to visiting local music stores and business for the perfect guitar for my son.
So, I started shopping online for a guitar that was just right for my son, and quickly found the perfect one for him.
One question that plagued me about purchasing a guitar for my son was this; what was the perfect age for a child to begin playing the guitar?  We came to the conclusion that, as he was 10 years of age, that this was a great time to lean how to play.  The list of benefits for him playing guitar were long.  Guitar playing would help to teach my son the importance of self discipline, help him create an identity all his own, help grow an appreciation of music, and much more.
As I suspected, he loved his new musical instrument.  He loved the look of it, the sound of it, and just the idea of having one.  Yet, that is where it pretty much ended, at first. He was captivated by it in the beginning, but his lack of guitar skills soon saw him loosing interest.  Sure, he was taking lessons, but he was not grasping it as quickly as he would have liked to.  As a parent, I already understood the importance of praise, and my wife and I made sure we did not push him, but rather encouraged each and every small victory he achieved when playing.
My son has been strumming away the past few days, and the sound has been music to my ears.  It may not be the prettiest tune to listen to, but it is a beautiful site watching him grow through the gift of music.
More resources on music education:
How to incorporate music education when on a budget - Director of Performing Arts & Educational Specialist, Fernando Pullum, MA
Advice for fostering your child's talents - Justin Beiber's mother, Pattie Mallette
Benefit of doing art activities with your kids - Psychologist + author, Charlotte Reznick, PhD