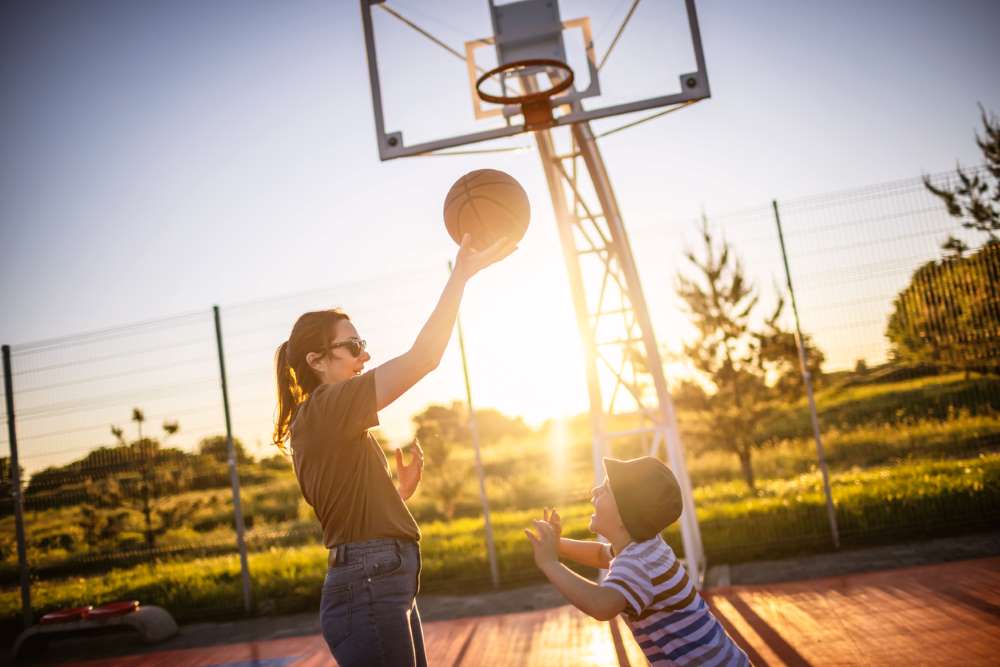 When was the last time you spent the afternoon playing with your children? Chances are, you could use the bonding time — and you can't recapture these precious moments once your little one grows older.
However, if it's been a while since you've dug in a sandbox, you might feel confused about what to do. Here are 11 ways to play with your kids that you'll also enjoy.
1. Sensory Walk
Mindfulness benefits people of all ages — including children. Introduce your kids to the practice with this fun activity. You can perform it indoors or outdoors, but your little ones might appreciate the fresh air and the feel of their feet on the earth during your stroll.
You can set up a course or merely go around the block, stopping to tune into your senses. What do you see, hear, smell and feel? The mindfulness practice combined with support from you helps your kids resist peer pressure at school and form a more secure sense of healthy attachment.
2. Fort Building
Does a trying day sometimes make you feel like curling up in your blanket fort and shutting out the world? Why not take your kiddo along with you?
You can use any materials you have — pillows, blankets, old cardboard boxes, even rearranged furniture. Go all out by making a skull-and-crossbones "keep out" sign for your pirate's lair and only allow visitors who come bearing booty like chocolate.
3. Tag Variations
Tag is the ideal game for anyone because it doesn't cost a dime to play. Plus, the rules are simple.
Once your children master the basics, why not add some fun variations? A game of flashlight tag is ideal for summer sleepover fun, and a round of "sharks and minnows" works well if you have a pool.
4. Puppet Skits
Puppets put you and your child's creative skills to the test. First, you have to design your playthings and stage. You can use anything from paper bags to socks to create your cast of characters.
Then, you need to perform your skit. You can act out scenes from books your little ones are reading or recreate episodes of their favorite TV shows.
5. Obstacle Courses
Many kids need to get more physical exercise. If yours are among them, why not get fit together with a backyard obstacle course?
Designing it yourself means you decide how tough you want the course to be. You can get creative with pool noodles — they're available inexpensively at most dollar stores. You can also employ balloons, patio furniture, even a Slip and Slide during hot summer days.
6. Hide and Seek
This classic is another game that doesn't cost a dime to play. The age of your children determines whether you take it inside or out — unless you have a securely fenced yard. You might amaze yourself with some of the hiding spots your little darlings manage to discover.
7. Scavenger Hunts
Scavenger hunts are fun for the entire family — they're ideal if you have multiple littles. Plus, they allow you to keep the kids busy while you manage other tasks, like cooking dinner.
You can make scavenger hunts educational by giving them a theme or using clever clues. For example, if you are learning about colors with your toddler, ask them to find five red things and three that are purple.
8. Board Games
Family game night is another beloved tradition. Why not keep it going with a selection of old and new classics?
Younger children might adore games like Chutes and Ladders, which also teach sound moral judgment. Older ones might go crazy for anything from Monopoly to Clue — experiment until you find one the entire family adores.
9. Coloring Books
Coloring doubles as a mindful activity and is ideal for both you and your child to relax when the world grows overwhelming. Best of all, being a parent means you never have to feel odd for stocking up on crayons and markers.
Introduce your children to this quiet activity by letting them see you do it when you need to relax. They'll carry this valuable life skill with them into adulthood.
10. Craft Time
Did you live for arts and crafts time when you were in school? Now, you get to be the teacher — what can you create with your children?
You can do anything from building a birdhouse to making holiday ornaments for family members. As your children get older, you can introduce them to more complex activities, such as knitting and needlepoint.
11. Playing Dress Up
Finally, why not put on a play with you and your kids in the starring roles? Hit thrift stores and yard sales on weekends so that you always have plenty of costumes.
Even if you don't have tons of extra cash, your little one probably adores dressing up like their parents. Let them raid your closet and have your camera nearby for the Instagram-ready results.
Play With Your Kids These 11 Fun Ways
Playing with your kids is a crucial way to bond and improve your relationship. If you aren't sure what to do, try these 11 tips.