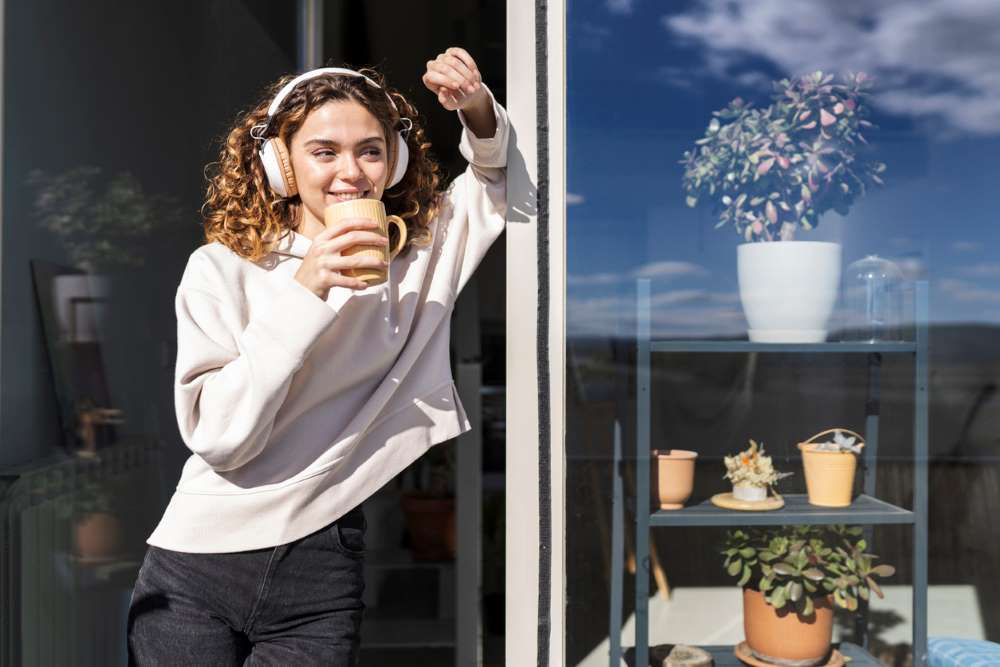 You spend about 62% of your time at home. This number increases for those who also work remotely. So, you want a space that is warm and inviting. Here are some tips for making your house super cozy.
1. Spruce up Your Entryway
Your property's exterior is one of the first things guests notice. Therefore, take time to decorate with lights, plants, or wall decor. For example, you could have a sign with your house number on it. Other ideas include creating a stone pathway or adding a welcome mat. Whatever decorations you choose, they should reflect your personality and work well together.
2. Buy Comfortable Furniture
After a long day of work, it's nice to unwind on a comfy sofa. Look for soft cushion fabrics like cotton or linen. Also, decorate your couch with fuzzy blankets and lots of pillows. You can even play around with patterns, such as stripes or geometric shapes. But stick with three patterns, so it's not too overwhelming.
Blankets and pillows are excellent design pieces that provide warmth. To keep your blankets organized, buy a blanket ladder.
3. Brighten Your Space
Lighting often impacts the ambiance of the room. Dim lighting creates a more intimate setting for date night. To create a cozy atmosphere, use string lights, candles and table lamps. You can also add human-centric lighting. It benefits your well-being by enhancing your mood and boosting productivity.
4. Feature Your Fireplace
If your house has a fireplace, accentuate it by adding decor. Place vases, candles, and picture frames on the mantle. Find items with a similar color or design as the rest of the room. Another idea is to place a mural or painting over the fireplace. Then the feature becomes a stunning focal point for guests. You can also add more shelving and display collectible items or travel souvenirs. Suppose you have a brick fireplace, surround it with wood.
5. Incorporate Fresh Flowers and Plants
Plants can make a room feel more inviting. Plus, they can make you feel more relaxed and even purify the air. Place them on the window sills in your kitchen or living room. Look for flowers that coordinate with your wall colors.
When picking a plant, consider the location first. For example, large potted plants work better on expansive surfaces. On the other hand, you can place succulents and flower arrangements on tabletops. Keep in mind if you don't have a green thumb, there are easy to care for options, such as paddle plant and lady palm.
6. Paint With Softer Colors
Light colors make your house appear warm and calming. Consider painting with hues such as blues, greens, or pinks. Neutrals are also popular choices that give your house a modern look. Plus, these colors can make your space feel larger.
7. Create a Cozy Outdoor Space
When the weather gets warmer invest in an outdoor space you can enjoy with friends and family. Bring out some comfy chairs and rugs. You can even incorporate unique seating, like hammocks. Also, add lanterns and potted plants. Other popular patio features include a fire pit or outdoor kitchen.
8. Add Area Rugs
Adding rugs is beneficial if you have hardwood floors that get cold in the winter. You can make the rug your focal point and match it with another decor, such as pillows or paint colors. Pick rugs in calming hues, such as blues or grays, with cozy materials like wool or cotton.
9. Make Your Wall More Personal
Decorating your walls is a fun way to brighten up a room. You can hang things like artwork, family photos, or mirrors. To make your wall more personal, add a photo collage. Consider centering the photo around a theme, such as a vacation or special event. Then add a decorative frame to complete the look. When choosing your artwork, mix large and small pieces together.
Here are some more fun design ideas:
Create a gallery wall

Install shelves

Paint an accent wall

Hang up plates

Paint a mural
10. Declutter Your Space
Having a cluttered home creates more stress. The more stuff around the smaller the area feels. So, regularly clean and declutter your space. If you need more room to stash your belongings, upgrade your storage.
Buy plastic storage bins or decorative baskets. Also, take advantage of vertical space, such as higher shelves and lower cabinets. Consider off-site storage options as well. Other tips for a clean house are to keep surfaces clear and don't leave dirty dishes in the sink.
11. Divide up the Room
A larger area can feel overwhelming when you first walk in. Dividing your room into sections creates a more intimate setting. You could designate a reading nook and entertainment spots within your living room. Section off these areas using lighting, furniture and rugs. You can even use a screen to divide the area.
12. Rearrange Your Furniture
Having too much open space takes away from the cozy atmosphere. Therefore, have your furniture closer together. In addition, have similar-sized items near each other. When choosing your furnishing, go with ones with rounded corners and cushy surfaces. Another tip is to arrange your seating in a circle. That way people can easily talk with one another and bond.
How to Make Your Home Feel Cozy
As people spend more time indoors, having a comfortable home is essential. By simply adding some lights, plants, and soft decor, you can transform your space. Follow these tips to make your home super cozy this winter.