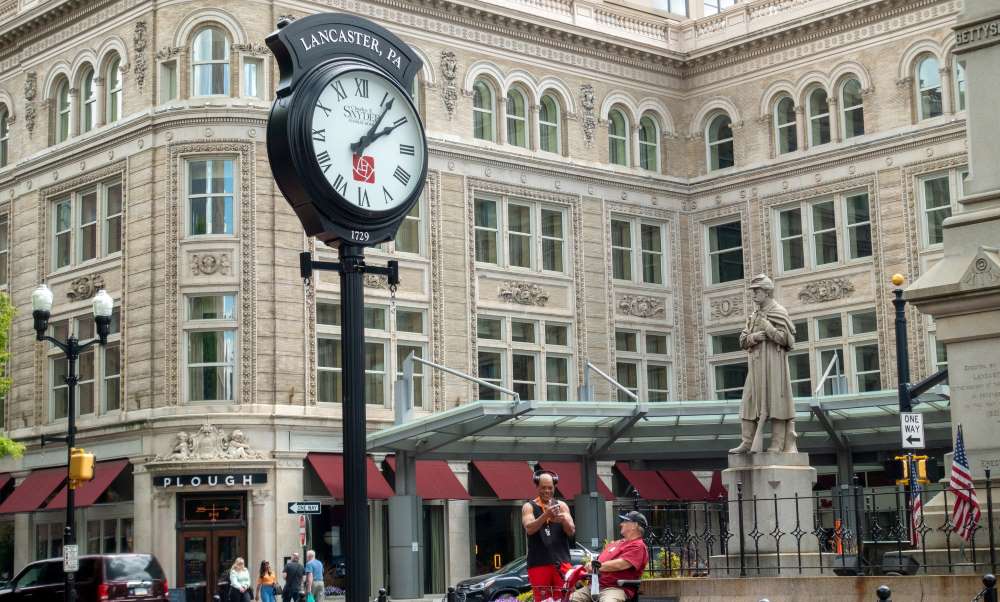 Pennsylvania tends to fly under the radar as a tourist destination, but it deserves more credit from out-of-staters. Pittsburgh and Philadelphia are attractive cities near the western and eastern borders, and many miles of beautiful countryside and pleasant towns lie in between.
Somewhere along the road you might find yourself in Lancaster – a small county in south-central PA with a blend of history and culture not found anywhere else in the U.S. Here are the five most persuasive reasons you should visit Lancaster, PA.
A Blast from the Past
Out-of-staters primarily know Lancaster for its dense Amish population, but you don't realize how strong their influence is until you see it firsthand. The Amish don't stay secluded in their country homes as many people think. They engage in business and community activities along with the other locals. It's a unique arrangement to say the least, but that's not the only reason Lancaster will give you a blast from the past.
Lancaster is also home to several historical sites, including the Revere Tavern, Rock Ford and former president James Buchanan's Wheatland house. These are just two of many pre-Industrial Revolution buildings that remain standing, especially in the northeast region where the same small towns and villages have quietly existed for centuries.
You can bring some historic artifacts home with you as well, as Lancaster has over 3,000 antique shops and dealers. Locals line up at the crack of dawn to get the best deals and antique auctions are weekly occurrences, so it's kind of a big deal around here.
Real, Good Food
Pennsylvania Dutch cuisine dominates Lancaster's food scene, as every town in the county has a handful of locally-owned bakeries, delis, and pastry shops. The Julius Sturgis Pretzel Factory (America's first pretzel factory founded in 1861) is one of the oldest eating establishments in the country and the envy of rival bakers throughout the county.
Downtown Lancaster, Hershey, Lititz, Strasburg, and Intercourse (yes, that's a town's name) all have dozens of humble cafes and food trucks lining the streets. The farmers' markets are so impressive and authentic that you'll never want to visit a retail grocery store again.. Though the towns are close in proximity, each of them brings something unique to the table.
Many restaurants in the area also provide food tours, complete with cooking tutorials, history lessons, and a generous amount of free samples. These tours give you a chance to try some of Lancaster's delicacies, including scrapple, real Dutch sausage and the many jams and jellies that the Amish and Mennonite communities have spent centuries perfecting. It's not a glamorous food scene, but old-fashioned home cooking beats glamor any day of the week.
Fun on Tap
Newcomers are always surprised at Lancaster's vibrant nightlife and alcohol accommodations. Don't let the quiet farmlands and small towns fool you: the locals know their way around a glass. Many breweries and vineyards call Lancaster their home, including The Strasburg Train, Bull's Head and St. Boniface. A Lancaster-style wine tasting or craft beer walk will have you feeling good in no time.
Happy hours, trivia nights and other specials are nightly occurrences, and live music is a staple at the rooftop bars and vineyards. Downtown Lancaster and Lititz host frequent Music Fridays, making the nightlife especially active in those areas. BYOB bowling alleys, escape rooms and other fun attractions also keep people entertained late into the evening.
Amusement Abounds
Children in Lancaster are spoiled with things to do. Most newcomers are most intrigued by the Cartoon Kitchen, a cartoon-themed kids' restaurant with an imaginative menu and many iconic animated characters running around. We also recommend you visit America's oldest operating railroad in Strasburg, complete with old-fashioned train rides and shop tours.
Lancaster sits in a suspiciously convenient spot next to several amusement parks, as Hershey Park, Dutch Wonderland and the Denver Fair are all nearby. There are also many top-notch playgrounds to choose from, including the famous wooden New Holland Park.
Lancaster County specializes in seasonal outdoor attractions, as the local fields are perfect locations for summer fireworks displays, autumn haunted hayrides, and winter light shows. Easygoing public campgrounds and hiking trails pepper the landscape, though the nearby Appalachian mountains also provide some more challenging outdoor activities.
A Flair for the Dramatic
Perhaps the most unique thing about Lancaster is the abundance of theaters and live performances. We touched on the live music scene when discussing nightlife, but that's just one element of the local flair. The famous Sight and Sound Theatres bring Bible stories to life with amazing musical acts, and drawing theater enthusiasts from all over the country.
The Fulton Theater, American Music Theater, and other prominent art centers put on a variety of acts. You can see Shakespeare, Greek comedies, classic American plays, magic shows, and many other performances based on your preference. If there was ever a Broadway in Pennsylvania, Downtown Lancaster would be one of the top candidates.
The Pennsylvania Renaissance Faire also sits just a few miles north of Lancaster County. It's one of the most immersive fairs in the country and something that every Pennsylvanian ought to experience at least once.
Let Loose in Lancaster
Lancaster County isn't the first place Americans think of when they're planning a trip, but perhaps that's a good thing. The quiet farmlands and small Dutch towns are key parts of what makes the county so unique. An influx of tourists and new businesses would disrupt traditions and ruin the area's authenticity.
Lancaster already has a perfect arrangement: old-fashioned food with a shot of modernity to wash it down. Next time you're in Pennsylvania, stop by Lancaster and see why so many people choose to stay.