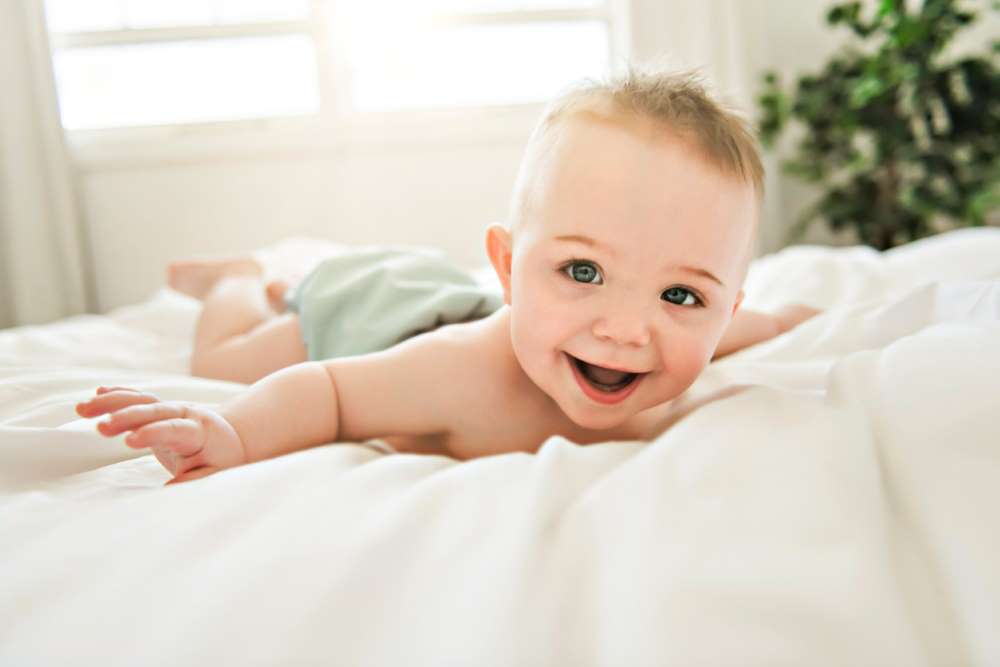 While the Internet may have been discussing the pros and cons of cloth diapering for decades now, the conversation is new for every family welcoming a happy addition. What were once only available as folded squares of fabric secured with pins are now also offered in dozens of styles, colors, and materials, like organic cloth diapers, but the benefits of cloth diapering remain the same. 
You're in Control. 
As a cloth diapering parent, you and you alone get to choose what materials come in contact with your baby's delicate skin. Disposable diapers may include heavily bleached wood pulp and harsh chemicals that turn into gels when wet; they can also hold solid waste against your baby's skin, causing rashes and irritation. By choosing cloth diapers, you may reduce or eliminate the need for diaper cream. Cloth diapers are breathable and don't seal in wetness. 
With organic cotton cloth diapers, you can also break free of boring white diapers. Cloth diapers come in colorful prints, solids, and whimsical designs that reflect your baby's personality. These stand-out looks also make it easy to identify your diapers at daycare or the babysitters, resulting in fewer lost diapers. 
Reduce Your Eco Footprint.
It's estimated that more than 90% of babies wear disposable diapers. If it's assumed that infants can generate up to a dozen dirty diapers in a day, that's thousands of diapers being sent to landfills daily. And those diapers can take up to five centuries to break down. Cloth diapers use fewer trees and petroleum products, so they have less of an environmental impact from creation. Because they're purchased once, cloth diapers also don't generate the repeated manufacturing and transportation costs it takes to bring disposable diapers to market. Using cold water washing and line drying also helps families minimize the energy resources needed to care for cloth diapers. 
Your Baby Enjoys Custom Comfort.
With cloth diapers, you can select the fabrics, styles, and sizes that best fit your baby's needs. Add diaper inserts as needed for custom absorbency when traveling or spending an extended period of time outside your home. Choose adjustable diaper covers that grow with your baby. If even the thought of trying to fasten diaper pins to a wriggly baby makes you feel anxious, you can buy diapers that fasten with snaps or hook and loop tab closures. 
Cloth Diapers are Budget Friendly.
Your cloth diaper collection can be as simple or as luxurious as your budget allows. Keep it simple with cotton prefolds or deck out your baby in the latest waterproof cover designs -- it's up to you. Cloth diapers are up for grabs in a variety of fabrics, from cotton to organic cotton, bamboo, hemp, modal, and more. While it may feel like a big initial cash outlay to build a collection of cloth diapers, there's minimal expense after that.
What's more, once you've acquired cloth diapers for your firstborn, they can be used again with future children, saving even more money in the long run. In fact, some moms recoup much of the money spent on cloth diapers by reselling them after their children have outgrown the use of them. 
Your Baby May Transition to Toileting Faster.
Disposable diapers might look good by keeping the baby's skin dry, but this can inhibit the potty training process. Children don't feel wet after soiling their diapers since everything is pulled into the absorbent core. Using cloth diapers instead allows the child to notice right away when they feel the wetness from urine or discomfort from solid waste, and this can help motivate the adoption of toileting skills. 
Cloth Diapers are Convenient. 
If you make the switch to cloth diapers, you'll never have to worry about running out to the store to pick up another package of diapers. Making cloth diaper laundry part of your regular household laundering routine is simple. Of course, following the cloth diaper manufacturer's instructions are paramount, but in general, once the solid waste is removed, the dirty diapers can be dropped into a diaper pail or wet bag. Every other day, run them through a cold water rinse in your washing machine, followed by a hot water wash with a gentle detergent and line dry them. 
Even though the discussion about cloth diapers and disposable diapers isn't likely to end anytime soon, there are several important benefits to choosing cloth diapers for your baby. They're friendlier to your baby's skin and the environment, and cloth diapers also give you more bang for your buck. With simple laundering practices, cloth diapers can serve your children's needs throughout their babyhood.