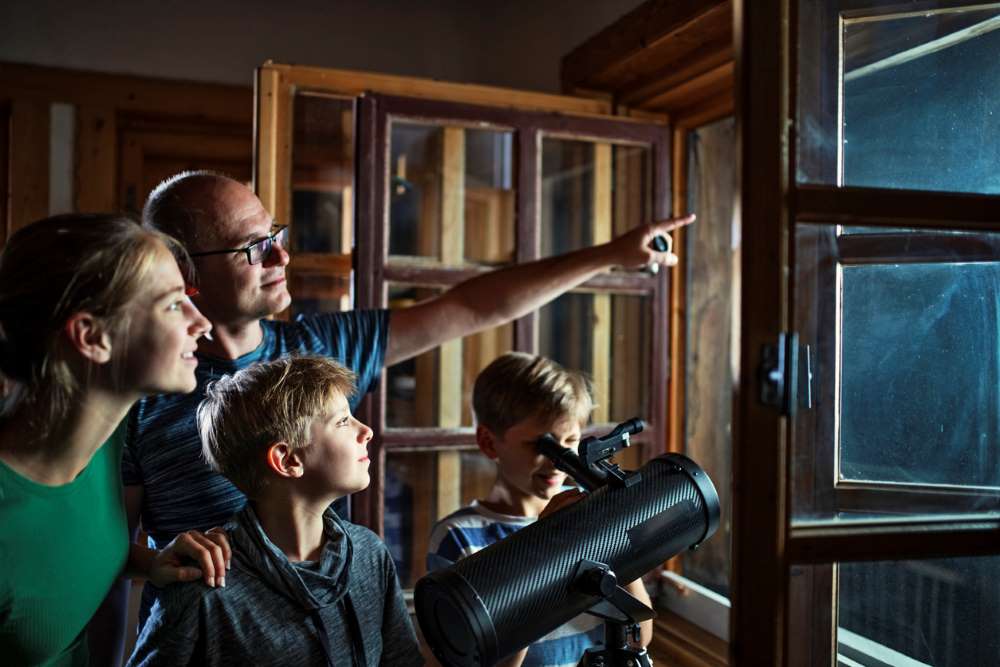 Children have incredible imaginations and one way to nurture their imaginations is to get them interested in astronomy. Generally, children have an innate curiosity about the world they live in, and so engaging them in astronomy shouldn't be all that difficult. If you are hoping to get your kids interested in the astronomical world then here are 7 simple steps to get them hooked!
Decorate Their Ceiling 
The idea of decorating a room always gets kids excited as they possess a feeling of control over their space and a sense of freedom. With your guidance, you can create a ceiling that looks like a stargazing fantasy! With glow in the dark stickers and special paints, you'll be able to give your children a room that feels like it is submerged in space. This feeling of adventure is something kids strive for and honestly what child isn't obsessed with glow-in-the-dark stickers anyway?
If you need some inspiration to tackle your design project, then see here to learn how to decorate a ceiling for a starry effect.
Take Them On A Stargazing Trip
Taking your kids on a stargazing trip is a sure-fire to get them into astronomy. It not only creates that sense of adventure, but it also creates a fascination about what exists just above us. Giving your children that first-hand experience of watching the stars or seeing the moon in its full bloom is something very special! To make it even more memorable for the kids, you need to remember to make it fun! Get out the blankets, the hot water bottles, and the hot chocolate! Bring some snacks and let the kids be kids. It will be a bedtime adventure like no other, and one that they will want to repeat again and again. 
Get A Telescope
It might be tempting to want to get your child the best of the best when it comes to telescopes, but actually, that has a lot of potentials to go wrong quite quickly. You want to get a telescope that has been designed for kids and that is relatively simple to use. There's an abundance of options available, but for your child, you should opt for a simple and affordable telescope. The last thing you want is for your child to get frustrated and feel defeated when they can't work out the telescope
Use Mobile Applications
Children have become quite tech-savvy over the last few years and so some kids might engage more with an app over a star chart. There are many apps that teach children about what to look for in the sky and what makes up the universe. Sometimes this digital platform can feel more familiar to kids, and so they are more likely to interact with it. 
There are apps that are free, and those that are not free tend to be available at a low price. For example, Star Walk 2, costs $2.99 and it is a family-friendly, easy to use, night sky map! To learn more about the apps available, click here.
Visit A Planetarium 
Visiting a planetarium is another way to spark your children's sense of adventure! They will feel immersed in the universe and you can take a variety of tours about the stars, moon, and sun! This experience will provide them with the facts, but deliver them in a fun and unique way. When you make learning fun, it doesn't feel like learning. Entry cost will vary depending on where you are, so do a little bit of research before showing up and getting disappointed. 
Watch Astronomy Themed Movies
Every kid loves a movie night, so why not make a night out of it! Pick an astronomy-themed movie, bake some star-shaped cookies and let the fun begin. Even if the film is loosely associated with astronomy your kids will still pick associate the enjoyment of the movie with astronomy.
Astronomy Themed Parties
Birthday parties are a big deal to kids, and one way to throw a completely unique party is to have it astronomy-themed. Your child will feel special, and it will only act to strengthen their interest in astronomy. So once again, it is time to get the star-shaped cookies out and let the kids run wild with their imaginations. 
All in all, it shouldn't be that difficult to get your children interested in astronomy. The key is to be creative with introducing it and then letting the kids lead with what they want to do with it.