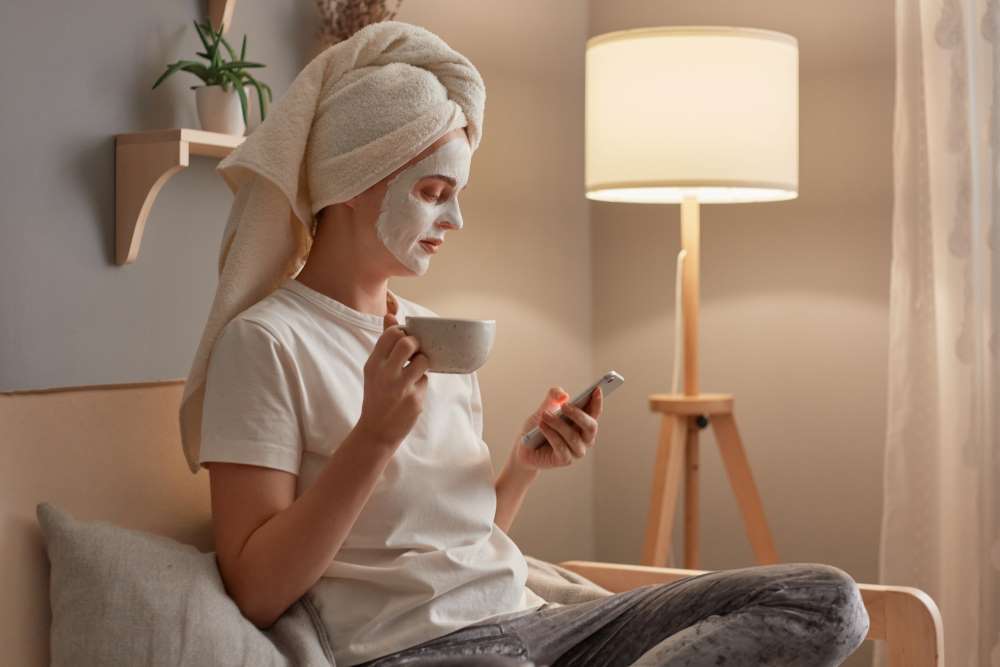 During our weekly routine, we often give ourselves the time to work, eat, sleep, and, if we're lucky, we also fit in some leisure time. However, many people are missing out on one of the most important elements of a healthy lifestyle - self-care. Self-care can appear in many shapes and forms, it's all about what makes you feel great.
We live such busy lives that we often forget to carve out this important time for ourselves. So, whether you enjoy curling up to read a few pages of your favorite book or heading out to the salon to get a facial, it's essential that you provide yourself with the opportunity to do so.
One of the best ways to unwind and reload your energy is by organizing a home spa day. If you have multiple housemates or live with a partner, make sure to get them involved, as everyone can make use of a little "me-time".
If you're eager to host this fantastic self-care event, but you're not sure how to get started, you've come to the right place. In this blog, we will go over all the most important steps involved when organizing a home spa day. Keep reading to find out what they are!
Start By Scrubbing Clean
First things first, you'll want to be working with a blank canvas, so start off your spa day by scrubbing yourself squeaky clean. Make sure to remove any dirt and germs before you apply products. We recommend you soak up in a bath and give yourself a gentle exfoliating scrub. You can even make your own scrub at home using coconut oil, sugar, and essential oils.
Lay out Your Bathrobe and Slippers
If you really want to imitate the spa experience, we recommend you get as cozy as possible. Before you take a bath or shower, lay out your bathrobe and slippers. For an added touch, put your bathrobe in the dryer or set it on the heater to get it nice and toasty.
Try to Mimic the Ambiance at a Spa
You can mimic the ambiance at a professional spa by dimming the lights and lighting some scented candles or incense. You can also create a soothing playlist with relaxing music to help you unwind. Don't forget to turn your phone off to eliminate all possible distractions.
Clear Your Mind and Meditate
No matter how hard you try, you won't have a relaxing spa day if your mind is racing with worries and an endless list of things you need to be doing. Try to truly clear your mind and practice some mindful meditation. Both your body and your mind should be relaxed. If you don't know how to meditate, here are some tips for beginners that will help you.
Healthy Snacks and Detox Water
Ordering fast food while you have your spa day is not the best move. Instead, make your own detox water by adding citrus, fruits, and aromatics. If you're feeling a bit peckish, make sure to have some healthy snacks to hand as well.
Stock Up on Self Care Products
Decide what areas you want to focus on during your spa day and venture out to your local store to stock up on these self-care products. For example, if you're going to give yourself a pedicure, we recommend you purchase some Baby Foot exfoliating foot peels.
Make Your Own DIY Facial
If you're someone who loves making their own treatments, we recommend you try out some recipes for DIY facials. You probably have all the ingredients you need in your pantry. We particularly love this hydrating face mask recipe with avocado and honey.
Hire a Professional to Truly Treat Yourself
You can also consider hiring a professional if you really want to treat yourself. Reach out to a local aesthetician and ask whether they offer home services, like facial treatments or massages.
Whatever you do, don't let the logistics of organizing a stay-at-home spa day stress you out. That will completely defeat the purpose of this activity. To make sure everything goes off without a hitch, we recommend that you start planning a week or two in advance.
Don't forget to block off your calendar so you won't encounter any nasty interruptions. Switch off your phone, turn on your tunes, and forget about reality as you relax. Once you experience the benefits of a home spa day, we guarantee you'll want to organize another one soon.