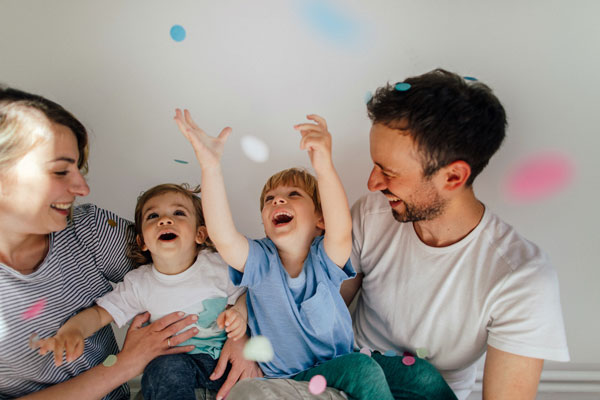 Gender reveals are so exciting, and a lot of couples have more than one for different social groups. You can do gender reveals in a few different ways, but one of the most simple, fun and impactful ways is to use a confetti cannon.
If you're planning a gender reveal and want it to go off with a real bang, why not try a confetti cannon yourself? Here are a few things that we've learned from experience that will help you to have a really amazing reveal.
1. Do it outdoors
Confetti cannons like these from Premier Glow pack more punch than you expect. They can go very high. So don't do it inside and break your lampshades and chandeliers. Hold the reveal outdoors instead.
2. Cloud makes for better photos, especially if you're having a boy
If you're having a boy you'll be using blue confetti, which will blend in with blue skies. So try to find a spot with a bit of fluffy white cloud so the pictures look better.
3. Have one popper per adult
Poppers hold a decent amount of confetti, but the pictures will look a lot better if you have several adults popping at the same time. Aim to have one popper per adult, and everyone pops together for a stunning confetti shower.
4. Tell the kids to cover their ears
Poppers are loud. Make sure that the kids are expecting this, and tell them to cover their ears. They'll love the look of the confetti, but the bangs might scare them. Don't let young kids pop a popper themselves, because they actually produce a fair bit of force.
5. Buy more poppers than you need
Having a few extra poppers is nice just for more fun, and in case you want to take some extra photos from a different angle. Confetti cannons aren't expensive so it shouldn't be a problem to round up your order, and it's worth the money.
The little ones can play with the confetti after the reveal, and there's always someone who wants to have another go just because playing with those confetti cannons is a lot of fun.
6. Choose biodegradable confetti
Confetti paper can vary in quality. Avoid glitter because microplastics are bad for the environment. Biodegradable tissue paper is a good choice because it is easy to clean up. The packaging on the poppers won't make it obvious whether they are pink or blue, but there will be stick-on tags that will show what color they are. Pull these off before you hand out the poppers so that you don't give the game away.
If you're renting a venue to host a party, get permission before letting poppers off. If you're doing it at home, do make an effort to clean up the garden, even if the poppers are biodegradable.
7. Always have fun
You're about to grow your family. This is something to celebrate, so enjoy the time with your family and friends at this special party.