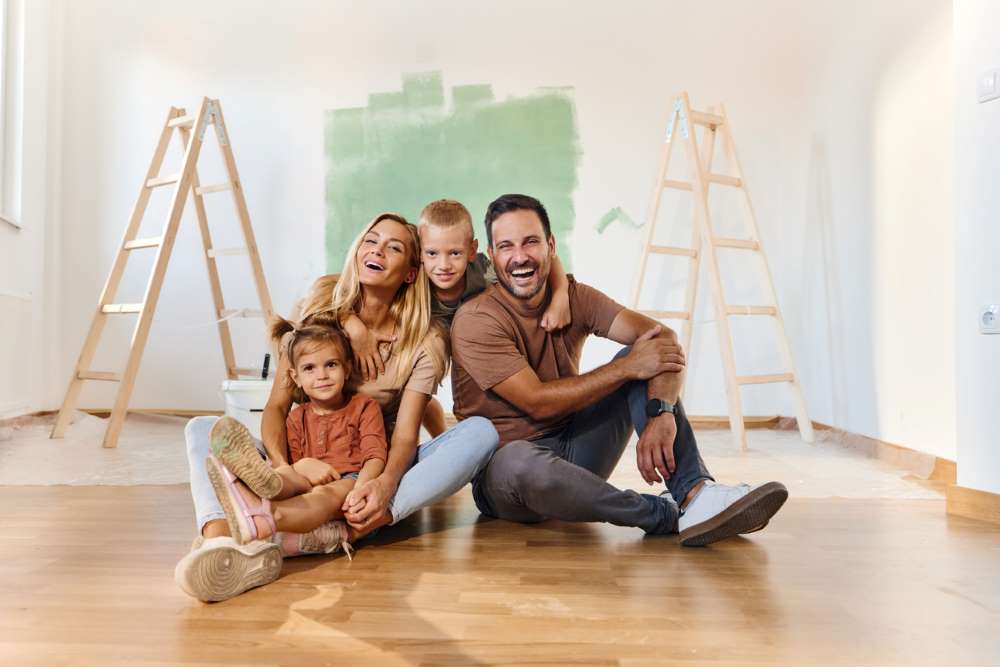 Home improvement doesn't have to be just a chore on the to-do list; it can be an exciting family affair that brings everyone together. These projects not only improve your living space but also provide an opportunity for skill-building and quality time. From painting rooms to constructing a treehouse, we've got you covered with these five family-friendly home improvement ideas.
Paint a Bedroom as a Family
One of the quickest ways to freshen up your home is a new coat of paint, and this project is perfect for all hands on deck! Whether it's your toddler's room or a family area, everyone can contribute. Young children can manage smaller tasks like handing out paint rollers, while the older kids and adults tackle the larger areas. Choose a theme or color scheme together, and you'll be creating not just a newly vibrant room, but also shared memories.
Build a Treehouse: A Family Castle in the Sky
If you have a sturdy tree and adventurous spirits in your family, a treehouse project might be the crown jewel of your home improvement endeavors. The planning stage itself can be a family brainstorming session, where everyone gets to chip in with design ideas. Older children can assist with measuring and cutting, while the younger ones can help with painting or decorating. In the end, you'll have a magical space that's a testament to teamwork.
Get Green Thumbs Together: Planting Flowers and Shrubs
Gardening is therapeutic, educational, and incredibly rewarding. From choosing the types of plants to buying the seeds and soil, involve everyone in each step. While adults can dig holes and handle larger shrubs, kids can plant flowers and learn about the importance of watering and sunlight. You'll have a blooming garden in no time, and what's more, you'll be fostering a love for nature in the next generation.
Create a Sandbox Paradise
A sandbox can offer endless fun and spark creativity in children. Luckily, building one is a straightforward project where everyone can contribute. Parents can take on the responsibility of cutting wood and assembling the box, while kids can help with sand-filling and decorating the borders. Add some beach toys, and you've got a backyard playground that will be a hit throughout the summer.
A Night at the Movies: Home Theater Setup
Transform your living room or a spare room into a cozy home theater. While the technical setup may be a job for the adults, children can help choose the movies and even create tickets for the grand opening. Add some popcorn and comfy cushions, and you've got a family movie night spot that rivals any cinema.
​​Craft Corner: Unleash Your Creativity as a Family
Incorporating a craft corner into your home can be an incredibly fun and educational project that encourages creativity and teamwork among family members. Designate a dedicated space for your craft corner, whether it's a corner of the basement, a spare room, or even a cozy nook in your living room. Ensure it's well-lit and equipped with essential supplies like tables, chairs, storage bins, and shelving. Take a family trip to the craft store or explore online options to pick out a variety of craft supplies. Plan craft projects based on themes or upcoming holidays, or schedule regular family art sessions.
Documenting the Journey
One of the best parts about these family projects is looking back at the fun times you had, and in today's digital age, sharing your family experiences can extend beyond photo albums and into the social media universe. Plus, why not document your progress and the finished results? 
TikTok videos are an exciting way to document your family's home improvement journey. The platform's various features, like music overlays and fun filters, offer a playful medium to capture those special moments. Not sure how to navigate the editing tools? Use an online TikTok video creator to simplify the process and add some extra flair.
It doesn't have to all be digital. Create a scrapbook to document your home projects. Take and print out photographs as you go, journal your thoughts, and even include bits of materials used in the projects. Each page tells a story, and it's a creative and sentimental way to track your progress and celebrate your achievements while preserving memories that will last a lifetime. Plus, it's another project you can complete as a family.
Home improvement projects don't have to be tedious tasks that you just want to get over with. Instead, they can be wonderful bonding experiences that impart skills and create lasting memories. Whether you're painting a room or building a treehouse high above, the real value lies in the time spent together as a family, collaborating, learning, and most of all, having a great time. So put on your DIY hats, roll up those sleeves, and let's turn home improvement into a family adventure!