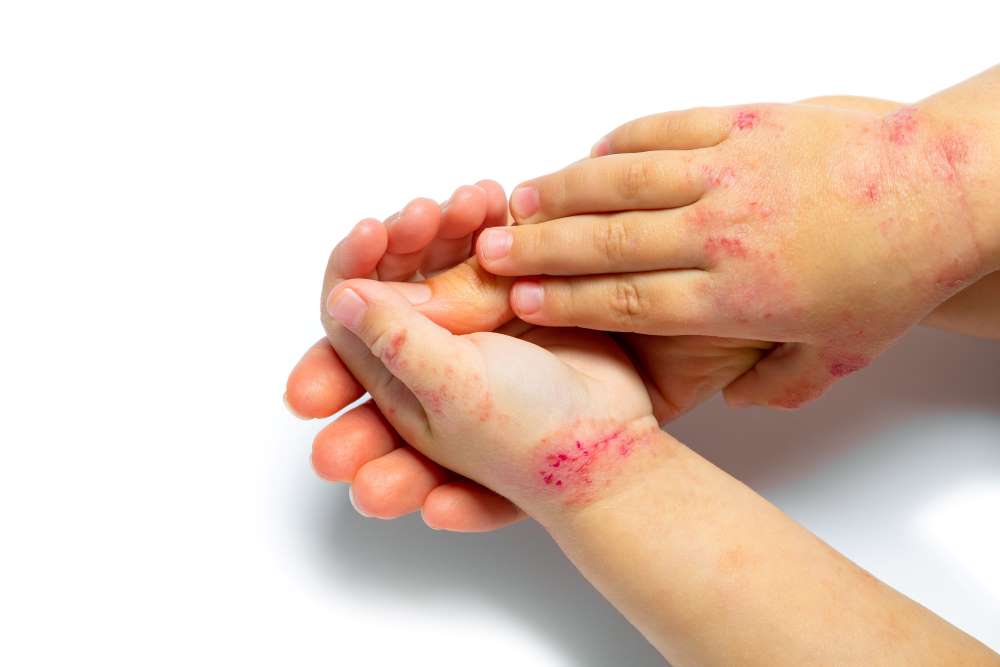 Eczema is a skin condition characterized by patches of dry, itchy, inflamed skin occurring on different parts of the body. This condition affects both adults and infants. The type of Eczema that affects children is atopic dermatitis, a common diagnosis, especially among children below five years. Even though atopic dermatitis is often not a serious medical condition, it causes discomfort and pain from the itchiness when left untreated.  
So far, researchers are uncertain of what causes Eczema. However, research has shown that various factors may trigger a flare-up. One of the factors is the type of clothing. There are specific types of fabrics that may cause an outbreak. Additionally, if the clothing isn't breathable for your kids, it can easily bring about an eczema flare-up. It's therefore crucial that you select Eczema friendly clothes for your child suffering from this skin condition. 
As this article guides you on how to select the right clothing, such as onesies for your kids with Eczema, you'll get a deeper understanding of how clothes may trigger an eczema flare-up. Keep reading to learn more.  
Step 1: Select Eczema-Friendly Fabric 
When it comes to selecting clothes for your child suffering from Eczema, the most important consideration you'll make is the type of fabric you choose. 
According to experts, the best fabrics for kids suffering from Eczema are  
Cotton 

Bamboo

Silk

Modal

Lyocell 
These fabrics are considered the best for children suffering from Eczema because they have certain properties that help prevent the occurrence of a flare-up. Moreover, if an eczema flare-up occurs, the fabric helps to calm it down. So, what exactly are these properties?
The fabric you select should be soft so that when it comes into contact with your kid's skin, it doesn't cause friction that may lead to irritation. Preferably the best fabric should be silky-soft.
Whether it's a sweater, shorts, or t-shirts, whatever type of clothing it is, you're advised to avoid fabrics such as wool whose touch to your kid's skin causes friction. 
Sweat is one of the major triggers that causes itchiness, leading to flare-ups for people suffering from Eczema. You, therefore, want to make sure that you dress your kids in light clothes that are permeable: clothes that don't trap heat, making your kid sweat.  
When looking for breathable fabrics, go for materials that are cool to touch. Since Modal is made from the pulp of Beech tree, it's usually cool to touch and is very breathable. Therefore, it's one of the best breathable fabrics for your kid's clothes. 
You also want to avoid any synthetic fibers such as polyester and other fabrics like fleece since they trap heat 
Sometimes, regardless of if you dress your kid in breathable clothes, they're still going to sweat. You must be prepared for such days by dressing them in clothes made of absorbent fabrics. 
A good absorbent fabric should be able to absorb the moisture from sweat, preventing irritation. Cotton is one of the commonly used absorbent fabrics. However, other fabrics such as Modal and Tencel are also effective absorbents. 
Step 2: Select Clothing With A Wide Opening Or Neckline 
When Eczema occurs among infants and babies, it often appears on the scalp, forehead, face, cheeks, chin, and neck. As such, you must dress your child in clothing that has ample neck space so that you don't irritate the already affected skin every time you're dressing them.  
Step 3: Avoid Cloths With Tags And Embellishments 
You'll agree that tags and labels on clothes can cause you irritation even when you aren't suffering from Eczema. Therefore, you can imagine how severe the irritation is for a child suffering from Eczema.  
That's why you're advised to avoid clothes with attached tags and labels. Consider purchasing clothes whose manufacturing information is printed directly on the fabric. Such garments are Eczema friendly and are recommended for children suffering from this skin condition. 
Step 4: Don't Buy Dyed Clothes 
Dye on clothes may sometimes irritate the skin, leading to a flare-up. It's therefore always good to avoid buying dyed clothes for your children.  
Be sure to read the label on the clothes to tell if the clothing has been dyed or not. Additionally, the most effective way to avoid dyed clothes, especially for infants, is going for white cotton clothes. You can always rest assured that these types of clothes aren't dyed.  
Step 5: Wash The Clothes Before Wearing 
Modern clothing is sprayed with chemicals to prevent bacteria build-up, especially for second-hand clothes. This chemical can cause a flare-up when it comes into contact with your child's skin.  
You, therefore, have to wash and rinse the clothes properly before the kids can wear them. Otherwise, if your kid touches the clothes before they're washed, they risk having an Eczema flare-up. Also, make sure you use cleaning detergent that may not trigger a flare-up. 
Wrapping it Up 
If you've been struggling with purchasing Eczema-friendly clothes for your child suffering from this skin condition, consider following these five detailed steps. However, note that this is just a way to avoid the occurrence of Eczema. In case of a flare-up, seek medical attention from a professional.