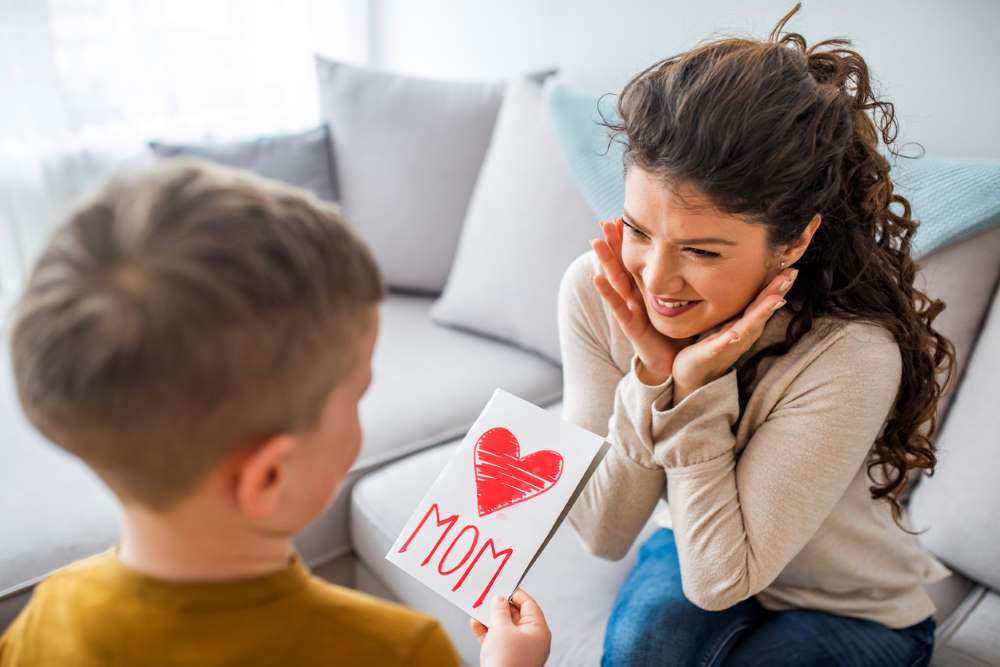 What do you give the woman who gave you everything? Though she deserves the whole world and more, you need to figure out something realistic to gift her that she'll love. Whether you're looking for a gift for Mother's Day, Christmas or her birthday, you'll find that these gifts will always be a hit with your mom.
3 Handmade Gifts for the Sentimental Mom
You used to give your mother homemade gifts, and she adored them. Why not do something similar — albeit something that requires more effort than a handprint flower. Your mother will love it all the same.
1. Photo Album or Scrapbook
Taking time to put a scrapbook together for your mother will show her just what a labor of love it was. She'll flip through the pages with delight, reminiscing on the memories and talking about old photos.
If you're not sure what to include in your photo album, consider recreating photos from when you were a kid. Dress up in similar clothes and get into funny antics with your siblings. Once you have all the images, put them in the book beside each other so your mom can see the transformation over the years.
2. Homemade Blanket or Quilt
If you're a crafty person, you may know how to sew or quilt. Your mom may be in awe of your skill, or maybe she's the one who taught you how to do it. Pay her back in kind by creating something with your own hands.
You can add a flair of personalization by quilting old articles of clothing or printed photos on fabric. Any quilt or blanket you make will become an instant keepsake. Just make sure to plan your time accordingly. Quilts can take a long time to complete, even up to 100 hours, so make sure you start well in advance of the date you plan to give the gift to your mother.
3. DIY Decor
For the mother who loves to collect knick-knacks, you should create your own for her to display proudly. Consider pressing flowers between two glass panels for her to display throughout her house. Make sure those flowers are ones she loves or have a significant meaning to her, like a wedding bouquet.
You can enlist the whole family in making group art for her, either digitally or traditionally. Once you have the image completed, you can have it printed out and framed, or you can turn it into magnets so she can always display her child's art on her fridge. As long as you have a creative mind, you can find plenty of things to make for her that she can display.
3 Gifts to Recall Fond Memories
Talking about memories is one thing, but seeing something that reminds you of the greatest times of your life can make your memories stronger. Having an item that can remind you of the good times every day can make you smile, and your mom will certainly appreciate the effort you put into finding something reminiscent of her favorite vacations.
1. Digital Photo Frame
If you have too many photos to display separately and want to send every single one to your mom, consider getting her a digital photo frame with the images you like preselected. The photo frame will cycle through the photos it's set to, and your mom will get to enjoy every image all over again. This pleasant display could allow your mom to cut down on clutter, too, since she could have one frame to house all of her lovely images.
2. Reminders of Vacations
Think of all the vacations you went on as a family, either while you were younger or an impactful one from recent years. Do any of these vacations stand out, and is there anywhere your mom would like to visit again?
While you may not be able to gift her the vacation she deserves, you can pick out a souvenir that can always remind her of the location. Finding jewelry that conjures memories of her favorite vacation spot can make her smile whenever she wears it. Similarly, if you can find an item that can mesh well with her current home decor yet stand out as something unique, you could give it to her so she can keep it close and within sight.
3. Trace the Family Tree
One of the greatest ways to keep your mother in touch with family members long gone is to gift her a subscription to an ancestry service that will allow her to trace family members back for hundreds of years and possibly make connections with ones she never knew existed. Around 30% of people don't know their family tree beyond their grandparents, so this gift could be a great way to get your mother in touch with her roots.
While your mom traces back her lineage, she can tell you more about the family members you didn't get a chance to meet. Spending time with one another while building a family tree can allow you to learn more about your family history and create a record for future generations.
3 Subscriptions to Entertain Any Mom
Opt for a subscription package if you want to give your mom the gift that keeps on giving. Subscriptions often deliver an item or box to the recipient either weekly, monthly or on another interval. It's a great way to keep giving your mother gifts throughout the year.
1. Flower Subscriptions
Is there anything better than a fresh bouquet or small dried flower table arrangements displayed in the home? Your mom could bring nature inside with a flower subscription that delivers fresh flowers to her door. She would think of you whenever she saw the blooms, and they'd provide a dash of color to her home until the next bouquet arrived.  You can also ask them to prepare a dried flower gift box for a change.  
2. Self-Care Subscriptions
For the woman who does it all, what better gift could there be than one that encourages her to take care of herself? Some self-care subscription boxes include bath bombs, loofahs and more, while others promote comfort by providing sleep masks and slippers. Think of what your mom needs most to unwind, then pick the subscription that works best for her.
3. Class Subscriptions
Many websites provide classes at a recurring fee. Instead of having something delivered to her door, your mom can access new courses at any time and learn unlimited things thanks to your generous gift. It might be the perfect gift solution for a mother who's retired and seeking more to do.
Give the Gift of Love
Whatever you choose to gift your mother for this special occasion, choose to give it with love. Your mom will appreciate anything as long as it's from you, just as you appreciate everything she does for you. Encourage her to sit back and let you shower her with beautiful gifts for once.