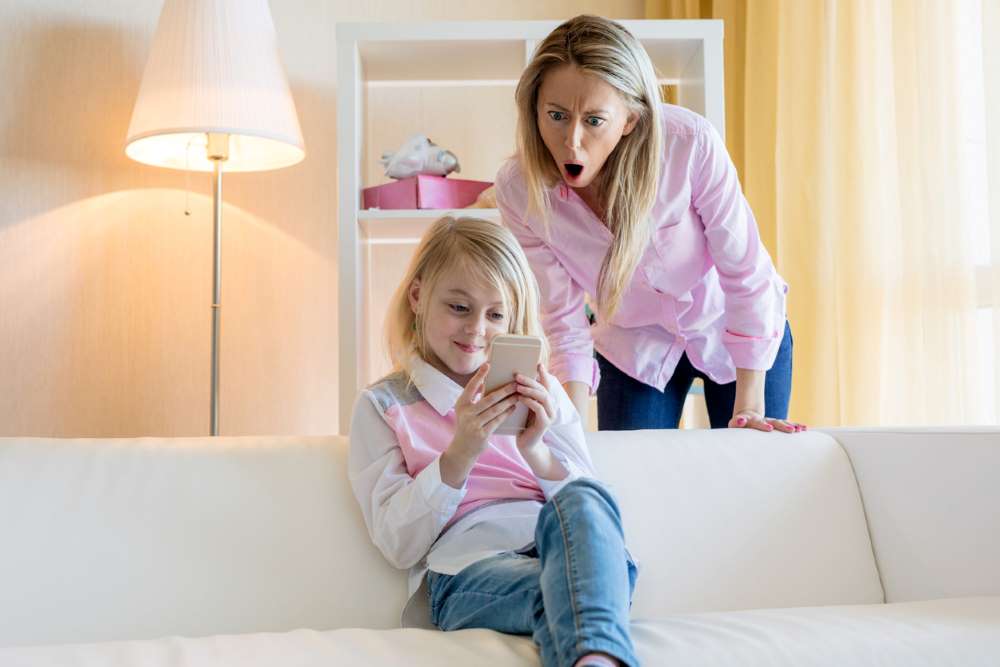 Today's kids and their parents are having a battle over a variety of issues, including when it's ok to have their own smartphone and when they can use the Internet on their own. Both sides have good arguments because a smartphone is a safety net for kids while accessing the Internet is crucial for kids to study, research homework topics and yes, chat on social media.
The truth is, it's not really a "battle." All those parents are trying to do is keep their kids safe when they use the Internet. As adults, parents know and understand the nasty people who like to prey on children, and most kids are innocent - and naive - about who is communicating with them. Here's where parents need to take charge and guide their children to a safe and happy experience while on the Internet.
The Safety Net is Gone
There used to be a built-in safety net for parents with regard to their children. They knew what shows kids were watching on TV (and later, on their tablets and other devices), and had a heads-up on the content of the shows their kids were watching thanks to the rating system of G, PG and R. No parent would willingly allow their children to watch an R-rated movie, and for good reason. It's really the same with the Internet, as no parent would willingly let their children visit a site that has the potential for harmful content or one run by a person with nefarious intent. The problem is, there isn't a safety net on the Internet or on most websites to alert parents that a site may not be appropriate for children.
The good news is that social media, like Facebook, Instagram, TicToc, and many others do have certain age restrictions that are designed to keep kids out, and safe. Not all sites do, but let your kids use the sites that work to protect children. You can go on their profile, edit any objectionable content you deem inappropriate, and feel comfortable about your kids using the site. Monitor their texting and emails - review who they're corresponding with, and use Nuwber, an online tool that will provide a verified identity of the contact using the phone number or email address that they've provided to your kids. If it doesn't match up with who they say they are, delete that person's contact info immediately!
This is very important, and here's why: 40% of kids in grades 4 through 8 reported chatting online with a stranger, and of those 40 %, 53% gave out their phone number to a stranger. So more needs to be done to educate kids about the dangers of doing this. Parents must take a more active role if they want to keep their kids safe.
Talk to Your Kids
The best way to start with Internet safety and kids is to have a discussion with your children. Talk about the fact that there can often be bad people on the Internet, and your only desire is to protect them from harm and keep them safe and secure, not to censor their surfing choices (even though you may well be!).
Teachers report that their biggest concern with children on the Internet and social media is the entire topic of cyberbullying. It happens, and there's no way to state it nicely. How big a problem is it? One in three (33%) of kids report being a victim of cyberbullying. Almost half of the kids report some type of cyberbullying, and almost 60% of teens report they've been victims of cyberbullying as well. In addition, many kids have skipped school out of fear of confronting the cyberbully. Now, bullying over texting is becoming an equally big problem.
If you share information with your children about the safety practices when they're online, most kids will abide by the information you share. There are the "big 5" online rules that are designed to help kids have a positive experience when they're online, and include:
Never send or share personal photos or images to anyone

Never agree to meet with anyone without a parent's prior permission and approval

Never reply to a threatening email or text

Never give out your phone number to someone you've only met online

Always tell a parent about communication that made them frightened or scared
Kids who follow these "Big 5" rules will end up having a safe and enjoyable experience using the Internet.
Avoiding Malware and Other Problems
Kids love to click when they're online, but that's where problems can start. The minute they click on a webpage that they know nothing about, the minute malware is downloaded to the computer, and getting it off can take an inordinate amount of time. Kids inadvertently download "free" apps as well, which contain adware. Every time you go to use the computer, a dozen ads will pop up distracting your computing experience. This is all due to a child clicking on a "free app."
You need to talk to your kids and explain how this "free" adware works, and that in order to survive, many apps install the adware in your computer without permission or without your child even knowing it's being done. The more you can educate your kids, the better. It will take a savvy computer tech hours to remove adware and malware from your computer, and cost you a pretty penny as well. The best defense is a good offense, and never let it get there in the first place.e
Explain to your kids why they should never click on "download now" buttons, and to notify you before you do anything that involves downloading something to your computer. You're not doing this to make them look stupid or foolish, you're simply doing it to prevent problems. Also, remind your children to never divulge usernames or passwords to anyone - no exceptions! (Except parents, of course!) Help your kids devise a username and password that isn't easily duplicated so that theirs will be unique.
Summary
Giving kids access to the Internet is a safe, easy, and comfortable step to take if you have the appropriate discussions with your children. Nobody wants to give their kids free reign, so be sure to talk to your kids and explain all that going on the Internet entails. Having a discussion about online safety and cyberbullying will give you peace-of-mind, and provide your child with coping tools if the issue comes up,