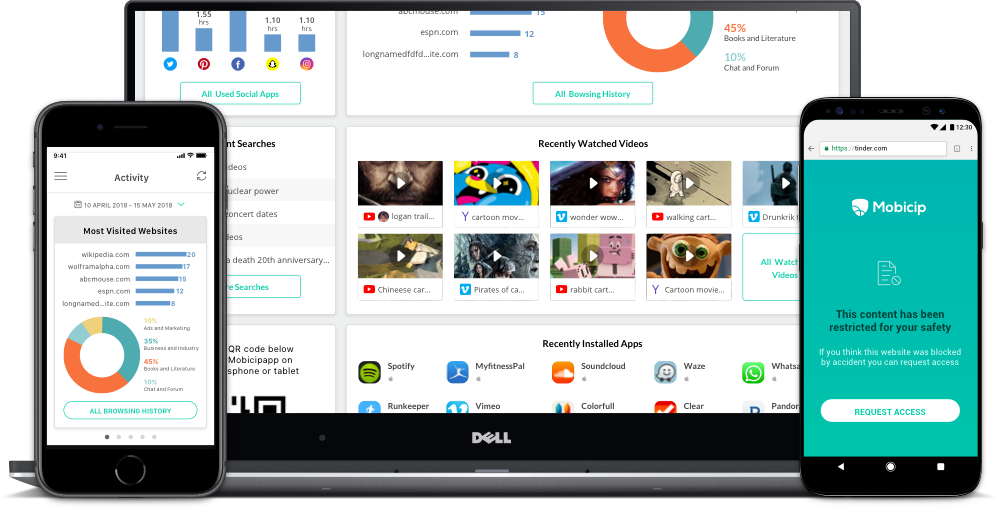 It is no secret that today's generation of children and teens are growing increasingly more attuned to technological advancement. Evidence of this rests in the mere fact that 10 years is the average age that kids start regularly and independently using devices connected to the internet.
Of course, the internet opens up endless opportunities for learning, communication, and accessibility to the rest of the world. However, the question of limits and safety arises, as we want to keep the internet a positive resource to support rather than hurt a child's development. The internet, as we know it, can be a dangerous space if not monitored adequately with search filters and software blockers.
Here at Kids In The House, we have made a thorough effort to cover the internet and its general effects on our children- both positive and negative. More specifically, we have tried to offer different ways in which parents can monitor their children's internet use in a healthy manner because we believe this is very important. Since there are so many safety monitoring options on the market, we want to do the dirty work for you and give you the most advantageous options.
This week, staff at Kids In The House decided to give Mobicip a try. Launched in 2008, Mobicip is a parental control and internet filter service that works primarily on smartphone devices.  Mobicip combines a lot of parenting and safety programs into one. First, Parents are able to customize their safety filters and block certain websites according to their own rules and values. Through the software, they are able to manage all the users of their child's device or manage multiple devices all just through a single account. Additional features include limiting screen times, which entails a time limit on a kid's device use and location trackers, which enable parents to locate your child or the device if lost anytime and anywhere. This is particularly important in order to ensure ensure your loved ones reach the school, a party, a picnic or a sleepover by locating them instantly. Rather than download multiple apps and softwares to do this, having it all in one streamlines the process for parents. It allows parents to not feel daunted by all of the safety hacks and instead make security more manageable and convenient for everyone involved.
Additionally, Mobicip has the widest platform coverage to cover all connected devices in the family through a just single parent account, specifically for Androids and Chromebook.
Fun fact: Nearly half of all smartphones in the US run on Android. While most parental controls software depend on fixed databases of whitelisted and blacklisted urls to filter online traffic, Mobicip goes even one-step further by dynamically scanning on-page content in real-time to judge if it is appropriate for a particular filtering level. It also allows you as the parent to restrict certain apps and games. In today's current boom of social media, regulating the use of apps like Snapchat, Instagram, and Facebook based on your child's age is critical.
We found that Mobicip had the widest platform coverage to cover all connected devices in the family through a single parent account, making it a comprehensive tool that caters to all the needs of a digital parent today. Parents can sign up on singular parent device and scan to add child devices, making USING Mobicip efficient and easy to use. You can view and manage your entire family's devices through an intuitive dashboard. Another plus to this system is that only the registered admin user can uninstall Mobicip from the Android device in question; so to answer your question, no,  your kids are unable to uninstall Mobicip from their devices.
Mobicip's billing is annual. For the standard $39.99 a year, Mobicip will fully protect up to 5 devices in your home. They also offer the Enterprise option, which can protect 20+ devices, for a requested quote. You can test Mobicip by using their introductory 7-day free trial. Your trial will allow you to access all premium features available within the Mobicip App. Mobicip is also user-friendly, offering tons of tutorials, videos, FAQs and blog articles to assist you.
As Mobicip reminded us, it is important to remember that kids today spend twice as much time on screens as they do playing outside. By limiting their screen time, you are ensuring your kids' overall health and safety. Moreover, by filtering their access to harmful websites, we are cultivating a safe space on the internet for our kids to learn and communicate with the rest of the world. Apps like Mobicip also help enforce bedtimes by setting practical daily or weekly schedules and encourage participative family meals by instantly locking all the devices at home for face to face communication.