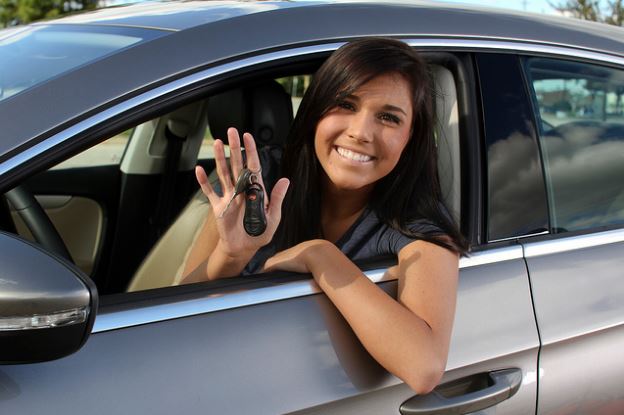 Many parents dread the day their teenager will acquire their first real ticket to and taste of freedom: their driver's license. While most teenagers are counting down the days, parents feel understandably hesitant about their teen getting behind the wheel and controlling a 2-ton hunk of metal.
Driving and having a car is a huge responsibility that can't be taken lightly, and it's your job as a parent to impress this weight on your teen. While Driver's Education will teach them the rules of the road, you need to make sure they also know about routine maintenance and are prepared to take on other responsibilities that come with the freedom of having a car.
Here are some tips for teaching your teen how to be a responsible driver:
Tire Safety
Every Driver's Ed class teaches students how to change a flat tire, but being able to change a flat is just one part of tire safety. There are so many other aspects that relate to tire safety, and your new teen driver needs to know about them. One such aspect is knowing how to recognize balding tires. Driving on tires with low tread can be dangerous for a number of reasons, such as reduced traction in rain and snow, ease of possible tire puncture, and potential for a tire blowout. Having tires at the proper pressure is vital to tire life, so when teaching your teen how to recognize tire wear, also show them how to check the tire pressure.
Another useful piece of knowledge regarding tires you should teach your teen is the importance of having the right tire for the season or for an activity. Depending on where you live and what outdoor activities your teen would like to participate in, it may be conducive to teach them about owning multiple sets of tires. If last year's record snowfall across the United States is any indicator of what this winter will be like, specifically having snow tires this year is going to be necessary to keep your teen safe.
Documentation and Insurance
If you've decided to give your teen a car, it's likely that everything associated with it will be in your name. But that doesn't mean that you can't use the experience of acquiring and gifting the car as a lesson in all of the documents and coverage a car needs to have. Whether you're getting them a used or new car, you will need to get the car registered and get license plates for it. Take your teen with you when you go to the DMV to get the car registered and show them what the process is like.
Insurance is another aspect that is likely to be in your name, but your new teen driver needs to know exactly what it is and what purpose it serves. Also, you need to inform them that not only is it important to have, it's illegal in all 50 states to drive without insurance; not only stress to your teen that it is the law and there are penalties for driving without insurance, but that having coverage is to protect them in the unfortunate event of an accident — something that is more likely to happen with inexperienced drivers.
Financial Responsibility
For most teens, receiving their driver's license is their first taste of freedom, and with that freedom comes the perfect opportunity to instill some financial responsibility in them. Some parents require that their teen earn the money to buy their car, or they decide to gift an older car, but in order to keep the car, the teen must pay for their own gas and insurance.
In order to save and pay for these things, most teens will get a part-time job. Some parents worry that a part-time job will interfere with their teens' grades and education, but with the right approach, it can actually benefit them greatly. It will teach them to organize their time and to successfully juggle several responsibilities — much like they will have to when they become adults. To help them manage their time and responsibilities, set a maximum number of hours they are allowed to work each week during the school year and require that they keep a certain grade point average while working. If you help them by teaching them how to manage their schedule, they will have a leg up when they enter the real world after graduation.
Watching your teen grow up and hit big milestones like getting a driver's license is bittersweet, but you can embrace these inevitabilities by teaching some valuable lessons. Make sure you have done your best to instill respect for the huge responsibility is it to be a driver and that they take every aspect of it seriously. Getting a driver's license is exciting and fun, but still should not be taken lightly.