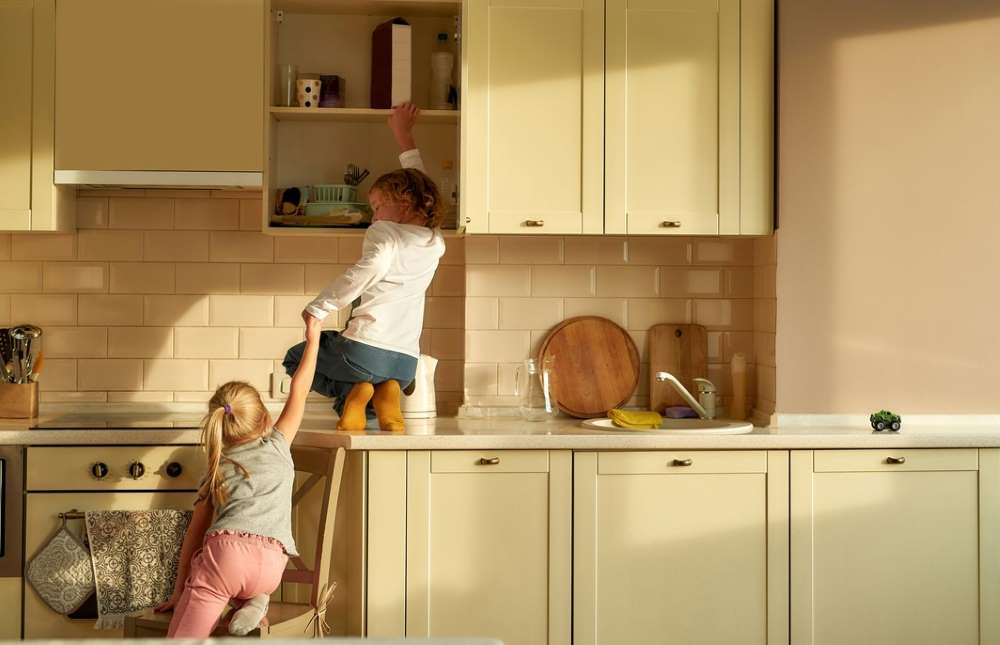 Functionality and aesthetics are two great reasons to love knobs/drawer handles. Our kitchens are used quite a lot on a daily basis and of course gets messy too. When you're cooking, you're switching between working with foods and touching the drawers' knobs and pulls and this can make them messy and greasy. Therefore it's important to choose the knobs and pulls that are beautiful but also, super easy to clean.
Kitchen knobs and pulls come in a plethora of styles, colors and finishes to enhance the look of your kitchen. But, how do you take your pick? Here are some things to consider when you go out knob shopping:
1. Knob vs Pull
There are no strict rules when it comes to the use of knobs and pulls. The basic is to use knobs for all the doors and pulls for all the drawers. It is just a general preference because it's much more comfortable to open a drawer through a pull rather than a knob. This is helpful as well as drawers can be heavy because of all the dishes, pots and pans. You can also go for the traditional all knobs or contemporary all pulls for a more traditional kitchen look. Keep in mind how the pulls will be mounted on the doors and drawers when going for all pulls.
2. Consider the Finish
Most home owners go for the good old fashioned brushed or chrome nickel when it comes to knobs or pulls. These two finishes are classic, versatile and all-time favorite of home remodelers. They both have their own character, which one is better, brushed nickel vs chrome? You decide! 
Finishes that go good with chrome faucets are limited in number such as white, pewter, dark bronze or black etc. Whereas brushed nickel ranges from satin brass, oil rubbed bronze to aluminum,black mate and rust.  Lastly, you don't need to match your faucet design as long as it is complimenting the other finishes in the kitchen design
3. Think About Ergonomics
While aesthetics matter, don't forget functionality while buying them. Since you will be constantly opening and closing them make sure they are comfortable and fits all four of your fingers around the handle nicely. Any sharp edges or tight spots are a no no. If you are living with elderly, consider getting all pulls, the D shaped ones as they are one of the most ergonomic designs out there. 
4. Size Matters
To avoid clutter or messy look around your kitchen, choose the same length of handles throughout the kitchen. But if you have cabinet doors that are taller than standard then you might want to go with longer handles as well. Same goes for drawers wider than 80cm pulls are better than knobs. This makes sure that its comfortably opening and closing while keeping the cabinet carpentry intact. Too much pressure on the knob or the pull because of the heavy weight of pots or the cabinet itself will damage the overall build of the cabinet. 
5. Cost
Cost is one of the biggest considerations when it comes to any interior design. We recommend not going for cheap and sub par material as the knobs and pulls are used hundreds of times a day. Going for expensive branded stuff will also be an overkill. You don't have to break your bank to achieve a fully functional and stylish kitchen. Go for local cabinet showrooms or plumbing as they offer higher varieties and people to help you hands on.  An average price range for knobs is 6-10$ and pulls is 7-12$ and higher. Whatever you choose, get a few extra pieces in case one of them comes off or the finishing rubs away.
Door knobs and pulls are often ignored but they work as jewelry for your beautiful kitchen. This little research is tiring but is totally worthed as it will add the extra oomph to it. Afterall, you need your kitchen to be as comfortable and aesthetic as possible to enjoy your cooking therapy.